Enjoy Restored Oral Health with Dental Implants
Are you missing a tooth or even multiple teeth? It is hard to feel confident when you have visible gaps in your smile. Dental implants from Advanced Dentistry of Athens give patients a second chance at having a beautiful smile by replacing missing or damaged teeth. Call to schedule your dental implant consultation today so that you can start living life with renewed confidence!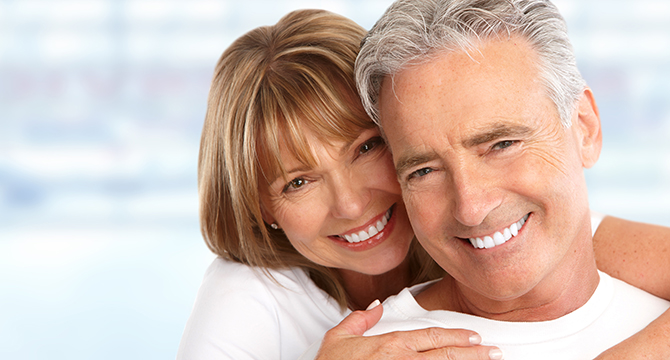 Benefits of Dental Implants
While root canals can sometimes save a damaged or decayed tooth, other times extraction is necessary. If you have had a tooth removed or lost a tooth through an accident, you should consider implant treatment. Dental Implants in Athens are an extremely effective and popular way to replace missing teeth thanks to their many benefits, such as:
High Success Rate – Dental implants have an extraordinary success rate of up to 95%!
Maximum Strength – Eat what you want any time at all with strong, reliable dental implants.
Natural Look – Implant patients enjoy prosthetic teeth that look, feel, and function just like nature intended.
Long-Lasting – With the same care that you provide for your natural teeth, dental implants can last many years, with no special cleaning or adhesive routine.
Indications for Dental Implants
Dental implants are small titanium posts that are surgically inserted into the jawbone to replace the missing tooth root structure. The biocompatible dental implant fuses with the surrounding bone in order to provide a stable base for a new artificial tooth or other dental prosthetic.
Whether you are missing a single tooth or want to restore your entire smile, dental implants may be the right tooth replacement solution for you. Here are a few ways modern dental implants can be utilized to restore smiles.
Missing Single Tooth
Implants can fill a gap in your smile from a missing tooth by providing outstanding support for a dental crown. Dental implants restore both the appearance and natural dental function of the missing tooth.
Missing Multiple Teeth
Unlike traditional bridges that clasp onto adjacent healthy teeth to stay in place, implant-retained bridges rely on one or more implants to replace several consecutive missing teeth. Implant-retained bridges provide superior support compared to traditional bridges and help reduce pressure placed on artificial teeth by spreading it across the bridge.
Missing All Teeth
Are you tired of your dentures slipping all the time? Implant-retained dentures are secured directly to the jawbone by attaching to a few strategically-placed dental implants. Implant-retained dentures can replace an entire arch of missing teeth and restore dental function!
Team-Based Dental Implant Treatment
Your dental implant care is performed at a very high level by using a team approach. The actual dental implant placement is done by one of our trusted and experienced board-certified oral surgeons. The placement is done with amazing precision using iCAT scans. Once the dental implant has formed a solid foundation with the jawbone, we will place an accurately designed prosthetic, which will restore your smile back to what nature intended.
Understanding the Cost of Dental Implants
Dental implants are valuable investment in your long-term oral health. Because no one smile is like the next, there is no one-size-fits-all cost to implant treatment. The final cost of your dental implants will depend on a variety of factors, including your overall oral health and the number of teeth you would like to replace. At Advanced Dentistry of Athens, we believe financial considerations should not prevent patients from achieving the complete smile they deserve. In addition to accepting most dental insurance plans, we also partner with CareCredit, which providers no interest and low interest payment options for dental procedures.  
Dental Implant FAQs
How long do dental implants last?
Dental implants are proven to last for decades longer than traditional tooth replacement options. They can last for 30 years or more, but various factors influence their lifespans, like your health and lifestyle. You can ensure your new smile thrives by committing to your oral hygiene at home. Brush, floss, and use an antimicrobial mouthrinse daily. Your implant dentist in Athens also recommends a cleaning and checkup at least every 6 months. Besides keeping your mouth clean and healthy, you'll want to avoid anything that may damage your dental implants, like hard or sticky foods. You shouldn't use your teeth as tools or chew on inedible objects to safeguard your smile from preventable complications.
Does it hurt to get dental implants?
You'll require oral surgery to place your implant posts into your jawbone, so it's normal to be worried about a painful procedure. You can sit back and relax because our office strives to ensure you're comfortable. A local anesthetic is used, along with a sedative or anesthesia, to block any pain. Not to mention, your jaw doesn't have any nerve endings. After any medications wear off, your mouth will be a little tender for a few days. You can manage any discomfort using prescribed or OTC pain relievers. Applying a cold compress to the outside of your face will numb the area while also reducing inflammation and bruising. Your implant dentist will recommend sticking to softer foods for a few days. If your discomfort doesn't improve or worsens after 3-4 days, contact our office.
Am I too old to get dental implants?
Your age doesn't determine your candidacy for dental implants. Instead, your dentist considers other factors, like your oral and general health. Since age is often attributed to certain pre-existing conditions, like diabetes, you may have an added risk of complications, but that doesn't mean you can't get dental implants. Your dentist will review your medical and lifestyle history to create the personalized strategy you need to replace your missing teeth while promoting the long-term success of your new smile.
Are dental implants removable?
A dental implant consists of 3 components: a post, an abutment, and a restoration. The post is surgically placed in your jawbone to mimic the root. It also stabilizes your restoration for a nearly perfect replica of your real tooth. Your bone will fuse to it through a process called osseointegration. Therefore, only a trained dental professional can remove it, such as if implant failure occurs. Although you can't take out any posts, some implant dentures are removable to make them easier to clean.